10 pretty awesome things you should know about Babylonstoren
Have you read
The Secret Garden
? Well, if you ever wished you could escape into the verdant greenery of 
Misselthwaite Manor, then a trip to Babylonstoren will leave you giddy as an adventurous child. Yes, there's a heavenly spa and a stunning wedding venue too, but as an ode to the inner child in us all (and the reasons why you really must go) here
 are our 10 favourite things about Babylonstoren. Did we mention they have hedgehogs?
1. Memories of blue and white china
When Karen Roos and Koos Bekker bought this humble farm and began unearthing soil to build their vision of the vast and plentiful, the soil revealed shards of blue and white china with some Chinese and European classic designs. Tossing old and broken cups and saucers into the yard was the norm back then, but now you'll find them mosaicked into the history of the farm amid the orchards.
2. Shakespeare and the garden tour
If you ever want your childhood whimsy and belief in fairies reaffirmed, we suggest joining a Babylonstoren garden tour with Gundula Deutschlander. Managing these beautiful, meandering groves is her baby and her knowledge of the many hectares of edible plants and permaculture at play will leave you hungry and inspired. Our favourite? Shakespeare's medlar tree (where he sent Romeo to dream of Juliette), recreated by splicing together apple, pear and quince trees.
3. The Glasshouse
You don't need to book to enjoy a fresh meal in this casual, airy eatery. It's rejuvenating just to enjoy a rest stop amid the granadilla creepers of the greenhouse, which is as transparently beautiful as the wholesome, seasonal food they serve.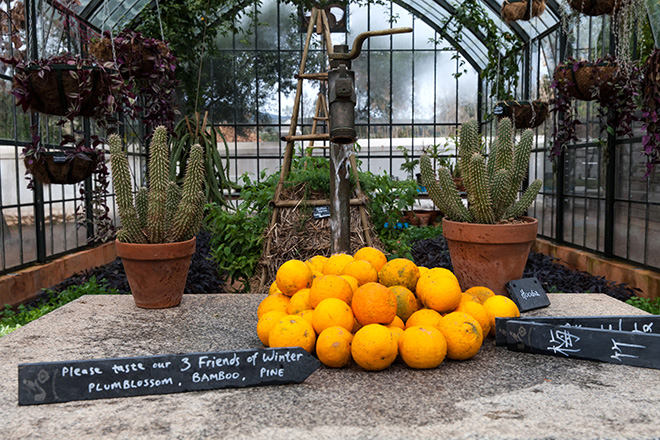 4. The Marilyn Monroe vent and cellar tour
If you love yourself some good vino, we suggest taking the wine and cellar tour. Aside from the awesome art work incorporated into the cellar, and of course the wine tasting of Babylonstoren's very own crop, the outside vent that pulls the carbon dioxide from the cellar, makes for a good laugh if you happen to be wearing a white sun dress.
5. Meisiekind and the bakery
Like any good farm, Babylonstoren has a donkey. Her name is Meisiekind and she is particularly friendly.
While you're feasting on some freshly baked gorgonzola and pear bread from the loving hands of Karen Pretorious, head baker, ask for a piece to feed the donkey and be rewarded by her foot stomping and unrelenting eeyoring.
6. Babel tea
There are a myriad of wonderful reasons to dine at Babel. Aside from the seasonally curated meals that literally sing to all your senses, enjoying the Babel tea is an experience in itself. A bouquet of herbs and flowers brought to your table with a little Nigiro teapot allows you to craft your own inspired brew. Just magical.
7. The duck whisperer
You may have heard of a horse whisperer or even a dog whisperer but to see Babylonstoren's duck whisperer walking silently amid the peach trees with his flock of hard working, web footed friends in tow, is not only charming and amusing, but an ode to the kindness and sustainability at play here.
8. Workshops on mushroom month to caring for clivias
The Babylonstoren events calendar offers awesome monthly courses based on the ever changing seasons of their abundant garden to anyone wanting to dive into this pool of eco knowledge. From beekeeping to growing clivias to garden wood carvings, all courses include talks and a delicious lunch at the Greenhouse as well as hands-on workshops.
9. The fowl house and pigeon loft
Mere metres away from the Babylonstoren farm shop, an old farm shed serves as night time accommodation. But this is not where guests sleep over. Here is the home of a rather large flock of pigeons who find some shut eye in the roof above the chickens and turkeys. Every couple of days, their nutrient rich droppings are scraped out and reintegrated into the farm. And therein lies the secret of their thriving bounty. Well one of them.
10. Babylonstoren hill
See this hill? The very first owner of the farm said this hill reminded him of the story of Babel and hence decided to name the farm Babylonstoren or Babel's tower. At this particular time of year, Karen Pretorious, head baker, tells us that a walk up Babylonstoren hill is particularly rewarding as the farm below dazzles you with a checkerboard display of apple and apricot blossoms.
We could write a tome on all the reasons to visit Babylonstoren really, but with spring comfortably sitting in our living rooms now and blooms galore on instagram feeds, there isn't a better time to go visit this beautiful farm. Just remember the restaurant is very popular and requires booking, but just to wander the acres of carefully crafted edibles, well that's only a R10 entrance away and well worth the trip.
Babylonstoren
Klapmuts Simondium Road
Franschhoek 7670
Open 7 days a week: 09h00 – 17h00
Daily Garden Tour, starting at 10h00.
Daily cellar tours, starting at 12h00
Bookings essential.
Price: R10.00