How do PostNet collections work?
When checking out, select the city and a branch where you want the order delivered. When the order is dispatched, it will be shipped to the PostNet branch, and once it arrives, you'll be notified by SMS. You'll require your ID/licence and the order number to complete the collection.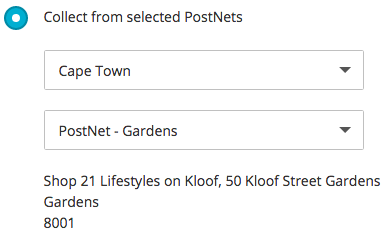 What does Postnet delivery cost?
Delivery to a PostNet branch is free, regardless of the value of your order.
Where are the PostNet stores located?
Participating PostNet stores are located across more than 20 cities. The exact address of the store will appear when it is selected at checkout time. Alternatively, you can find PostNet locations with their store locator.
What times are PostNet stores open?
We'd recommend that you confirm with your PostNet branch before collection. You can also take a closer look at their store locator