Wine breaks and snacking, the perks of a pizza party
Pizza is what happened when the food gods came down to earth and handed us a way of turning anyone into a successful maker of food. Think about it, you can pretty much combine any assortment of veg, fruit, meat and cheese on a pizza and it would taste spectacular – or almost any. So, now that we've established that anyone can enjoy the art of creating pizzas, open your kitchen and experience the simplicity in the slice.
A pizza dough recipe to commit to memory
To be able to hit the ground running on spontaneous pizza nights, the very first thing you need is a reliable recipe for the dough. This one has never let us down. It's probably the one our grandmother's granny used (whether pizzas were around then is another story).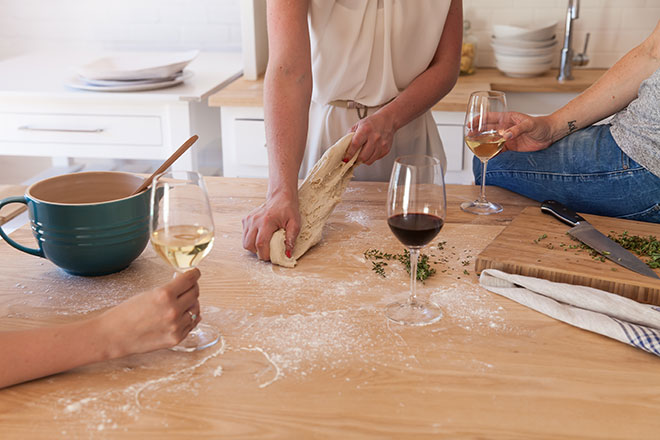 Pick the pizza spread
This is the fun part of staying in and making your own pizzas. You get to decide exactly what you want on them. Always have to pay extra to combine the Four Season with the Hawaiian? At home – anything goes. Be creative. Should you feel you need a starting point, here are some simple recipes to get going with.
Here's how you cook pizzas together
The art of making pizzas is a very free and spontaneous process and thankfully, doesn't involve too many rules, if any at all (except of course Massimo's rules). A little organisation does help though to keep things more colourful and less chaotic in the kitchen.
Pizza prep team 1
This person or cluster of hungry people should focus on making the dough and the tomato sauce and then later the pizza bases. Stationed near the oven with some open counter space they're in charge of:
Making the dough (preferably the night before or the host should do this)
Leaving the dough to rest
Rolling out the dough with rolling pin and pizza cutters
In charge of the pizza stone or tile
Pre cooking the bases
Basting the bases with tomato sauce
Team perk: Wine break while the bases crisp up in the oven.
Pizza prep team 2
The other person or half of guests gets to be responsible for all the toppings. They'll need to take ownership of the kitchen island or somewhere near the fridge and busy themselves with:
Chopping all ingredients into distributable chunks
Frying ingredients like bacon or caramalised onions
Grating the cheese
Chopping the herbs
Prepping everything into small bowls
Team perk: Snacking on the tidbits and sampling all the cheese.
Armed with all this information, you literally can have the best night in with as much variety as you choose. Also, the wine is cheaper. Here are some more of our pizza making tips and what our community had to say too. We'd love to hear your gems of wisdom, learnt after pizza night.
We can already smell the  bubbling cheese.