What you actually need on your wedding registry
Life is all about choice. You've likely just chosen the one person you want to spend your forever with, after all. But when it comes to crafting a wedding registry, while choice is also a wonderful thing, all the options and variety can be overwhelming. Before you add those ice trays to your wedded bucket list, here's our comprehensive guide on what you need on your wedding registry and how to make it count.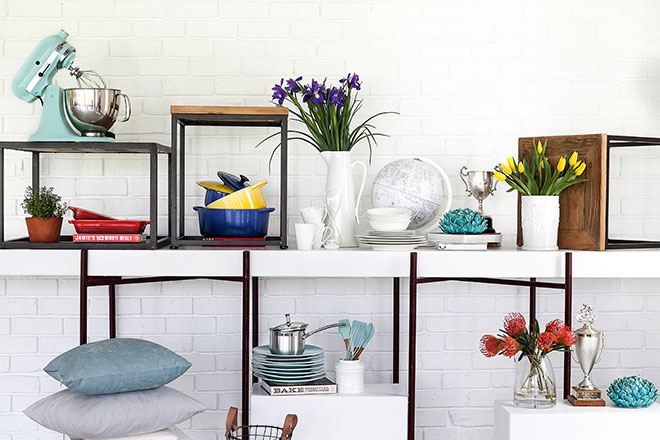 You can view your wedding registry as two things. It could be a giant wish list of all the things you've always ogled and can now finally ask for without shame. Or two, you can choose to see your wedding registry as a valuable opportunity to reflect on your life thus far and how your home has played a part in all this. Your married life affords you the opportunity to craft your home life as you wish it to be.
If you want your home to be the touch point for all your friends, the kitchen for book club, the courtyard where the grill is regularly fired up or the lounge where long stories are told over coffee and wine, then take this chance, while building your wedding registry to curate that vision. Invest in pieces that last and will bear witness to all those memories.
How to approach your wedding registry?
1. It's fun, not stressful, so enjoy the experience
Think of your registry as the grown up version of a letter to Santa. Compiling this shouldn't stress you out. It's actually a lot of fun. Find your favourite spot in the garden (make sure it picks up the wifi) call your other half (make sure they bring the gin & tonic) and start imagining your ideal living space.
2. Be realistic about your cooking and lifestyle choices
While it's great to have aspirations, make sure your wedding registry reflects about 90% of how you actually live now. Do you cook a lot of quick stir-fries? Time for a new wok set. Always end up baking for family events? A quality stand mixer is probably a wise choice. But if you're really into quick coffee you probably won't use that manual bean grinder. This is your kitchen – kit it out for you.
3. Don't fill your registry with knick knacks
Your wedding registry is not the place to add uni-tasking one hit wonders and simple kitchen staples. Wooden spoons and gadgets like egg separators don't belong on your curated wish list for your new home. Those are items you can just get if you really need them. Even though you think you might be doing your guests a favour by putting a few lower price point items on your registry, it's not a great feeling being the person who buys the lucky couple the onion saver for their wedding day.
Rather put some single items of a range that you would like to build up on your registry. But really – people can just join forces to get you the long lasting pieces that your wedded heart desires.

4. Start with high price point items
These are the real big fish. Think of them as the leading actors in the cast of your kitchen and lifestyle preferences. Make sure the pieces you select are neutral and classic or, if you're going with something iconic and bold, that it's a style you will see beauty in for years to come.
5. Flesh out with medium price point items
Your medium price point items will fill out your kitchen somewhat and are pieces that you'll use daily, so naturally top quality and a style that appeals to your taste is imperative. Here you can choose if you want something at the top end of the price point scale, say really fancy wine glasses that you would only drink from occasionally, or if everyday wine glasses are more suited to your lifestyle.
6. The bare necessities
These items aren't aspirational, and should really be in your home already, but if they need upgrading, now's the time to do so. They are also the ones that will afford guests on tighter budgets the chance to get something for your home that will be a daily and enjoyable part of your life. Sipping tea from a nice cup (as one of a set) is a far fonder memory than storing that half an onion.
After everything has been said and done, the best piece of advice we can give, the questions to ask yourself with every item you linger over, is this, 'Is it beautiful? Will it bring value to my life and will it bring me joy in using it?" If you hesitate on any of those points, move on to other pieces that fit the bill.
Our Starter Collections are also a valuable asset in helping to visualise the look and feel that complements certain items and can be added as a whole to your registry and refined later. Enjoy this experience – the items you select will be living on your shelves and photo albums for years to come.
Create your Yuppiechef Registry now.