Watermelon, sesame seed & feta salad
Got a watermelon in the fridge and wondering what to do with it? Plain slices can get old. If you have two minutes, some green leaves and a bit of feta – whip up this lightning speed salad for a refreshing lunch or snack.
Serves 4 (download print-friendly recipe).
Ingredients
500g watermelon, peeled and cut into wedges
1 punnets (125g) watercress, washed
1 punnet (125g) rocket, washed
15g fresh mint, washed
1 Tbsp (15ml) sesame seeds
160g feta cheese
2 Tbsp (30ml) olive oil
Squeeze of lemon juice
Maldon salt and freshly ground black pepper
Balsamic syrup, to serve (optional)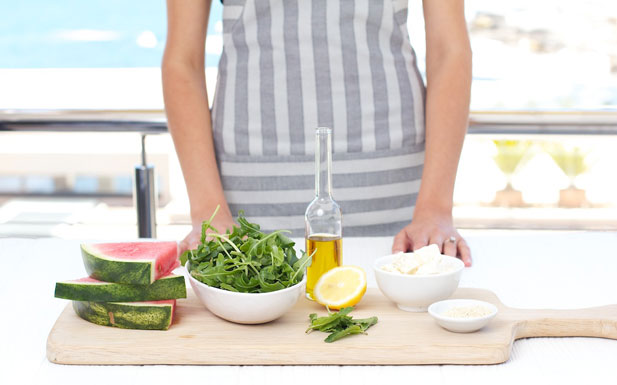 Method

1. Arrange watermelon, watercress, rocket and mint neatly onto a platter and sprinkle with sesame seeds and crumbled feta.
2. Whisk the olive oil and lemon juice together and season lightly with salt and freshly ground black pepper.
3. Drizzle vinaigrette over the salad and serve immediately with a little balsamic syrup if desired.