Canapé ideas: Thai chicken skewers with peanut dipping sauce
What's as good as food in a
pastry cup
? Food on a stick, of course. Did you know that peanut dipping sauce originated in Indonesia in the 16th century after the Spanish introduced peanuts to the region? True story. For a summer canapé with a kick, you might like to give this version of the traditional satay sauce a try.
Ingredients for approximately 18 skewers:
For the chicken
600g chicken breast, cut into strips
3 Tbsp chilli seasoning – we used the NoMU Spicy Chilli
2 Tbsp vegetable oil
For the peanut dipping sauce
½ tub crunchy peanut butter
½ can coconut milk
2 Tbsp green or red Thai chilli paste
Fresh chilli if you want even more heat
Lime wedges, to serve
Coriander, to serve
Skewers, either wooden or metal
Method:
1. Marinade the chicken strips in your spicy chilli seasoning and oil for 30 minutes.
2. To make the peanut sauce, place the peanut butter, coconut milk and Thai paste into a small sauce pot. Add more fresh chilli if you want it super hot.
3. Stir to combine, then bring to a simmer. Turn off and allow to cool.
4. If you're using wooden skewers, place them in boiling water for 10 minutes. We do this so that the wooden skewers don't ignite over dry heat. Boiling water assists in the water being absorbed slightly quicker as it opens up the grain of the wood. If you're using metal skewers, these obviously don't need soaking but bear in mind that they will remain hot for quite a while after cooking.
5. Thread your chicken pieces onto the skewers.
6. Heat a barbecue or large griddle pan on medium-high heat and cook skewers, in batches, for 5-8 minutes until the chicken is cooked and slightly charred.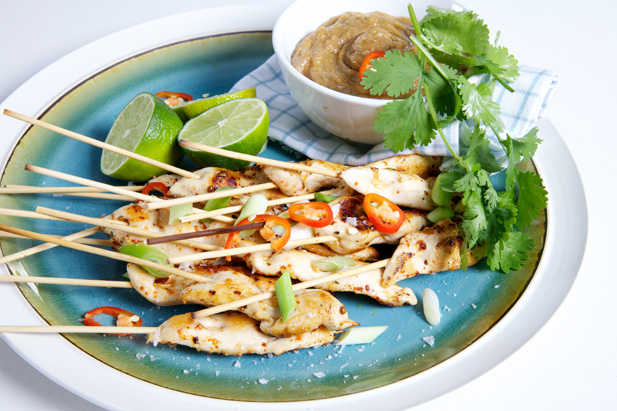 Serve skewers hot with your peanut dipping sauce, some lime wedges and fresh coriander and trust us, they taste as good as they look.
For more winning canapé recipes, head this way.