How to make a summer Pimm's cocktail
Did you know that Pimm's was invented by a farmer's son named Pimm and was first served as an aid to digestion? True story. Loved by many a Wimbledon fan, we've taken this drink and added a few tooty fruits, white wine and lemonade. Here's how to make it.
Ingredients (for a jug, approximately 4-6 people):
125ml Pimm's
2 glasses of sauvignon blanc
Fresh summer fruit (as much as desired)
Fresh mint (as much as desired)
Lemonade (we used our Sodastream and added lemonade syrup)
Crushed ice
1. Grab yourself a jug and fill it half way with ice.
2. Add half a cup (125ml) of Pimm's no.1, then 2 glasses of your favourite sauvignon blanc.
3. Chop up a good variety of summer fruits (peaches, strawberries, cucumber and mint work well).
4. Mix all the ingredients inside the jug with a long-handled spoon.
5. Using your Sodastream, conjure up a quick lemonade. Insert a Sodastream bottle, filled with cold water, into the Sodastream. Fizz for the desired amount of carbonation before adding your lemonade syrup.
6. Add a touch more ice to the jug and top up with your freshly-made Sodastream lemonade.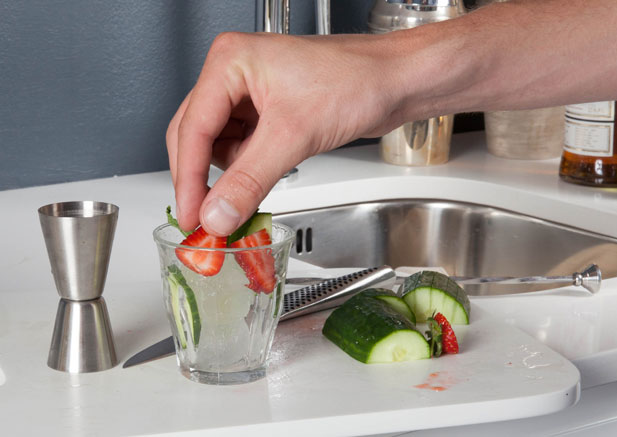 The epitome of summer, this one.
Game, set, match.
For additional cocktail recipe crowd-pleasers, you might like to give these a try: