Stywe pap with sheba
The Enkosi Cookathon
is over for this year (Enkosi, we miss you) and we are still blown away by all those gutsy people out there who rolled up their sleeves and got stuck into cooking some Mzanzi grub. (Have you checked out the
Enkosi Cookathon collage
?)
Stywe pap with sheba (phutu and relish) was one of our Enkosi Cookathon recipes but we hear the recipe proved a little tricky (sorry, folks). Here, Renée Nesbitt shares her recipe for this classic South African dish. It's a hit served as an accompaniment to any braai.

Ingredients for the pap (serves 6):
4 cups of water
2 tsp salt
2 tbsp butter
2 ½ cups maize meal

Method:
1. Pour the water into a large pot, add the salt and butter and bring to the boil.
2. Slowly pour the maize meal into the pot to form a cone in the centre but don't stir!
3. Cover with the lid, reduce the heat to low and allow the pap to simmer for 5 minutes.
4. Using a large fork (such as a carving fork), stir it until crumbly and cover again with the lid. Simmer for an hour on low heat.

Ingredients for the relish (serves 6):
2 tbsp olive oil
2 red onions, halved and sliced
1 tin tomato purée
600g punnet of baby rosa tomatoes, halved
½ cup of dry white wine
2 tsp Worcester sauce
3 tbsp of chopped fresh herbs (I used 1 tbsp each of oregano, parsley and coriander)
2 tsp brown sugar
1 tsp salt
Freshly ground black pepper to taste

Method:
1. Heat the olive oil in a small pot or saucepan and fry the onions until translucent.
2. Add all the ingredients to the pot and allow the sauce to simmer for approximately 1 hour.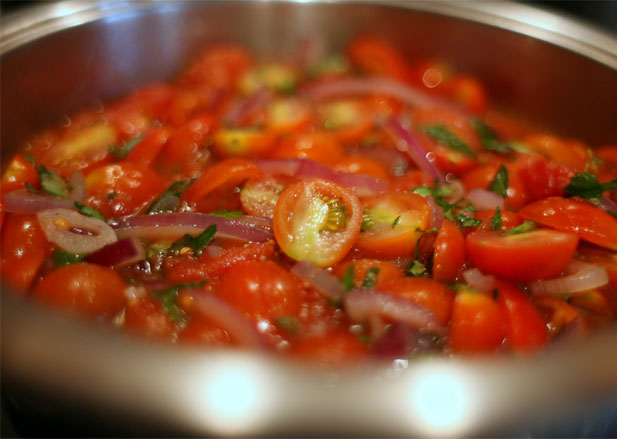 3. Serve hot with pap and garnish with fresh herbs.
Let us know how you get on and for more braai-inspired recipes, check these out.
Thanks to Karen Grandcourt for the pics.