Strawberry, peanut brittle, avo and goats' cheese salad
Peanut brittle, strawberry and goats' cheese in a salad? Does that really work? Yes indeed. This salad is guaranteed to wow your guests this summer – it certainly has all of us here at HQ addicted.
Ingredients (for one big salad):
300g rocket and watercress, rinsed and spun
2 ripe avocados, de-pipped and scooped
2 cups strawberries, rinsed, hulled and quartered
1 cup peanut brittle, loosely crushed
1 cup goats' cheese, crumbled
3 tbsp balsamic glaze
Maldon salt and black pepper, to season
For the balsamic glaze:
1/2 cup balsamic vinegar
2 tbsp brown sugar
Method:
Making this salad isn't rocket science; all you need to do is throw it together but we couldn't resist taking some snaps.
1. For the balsamic glaze: heat the vinegar and brown sugar in a small saucepan over medium heat. Simmer for 6-8 minutes, stirring occasionally or until reduced and slightly syrupy. Remove, cover and set aside to cool.
2. Start with the rocket and watercress.

3. Scoop in the avo.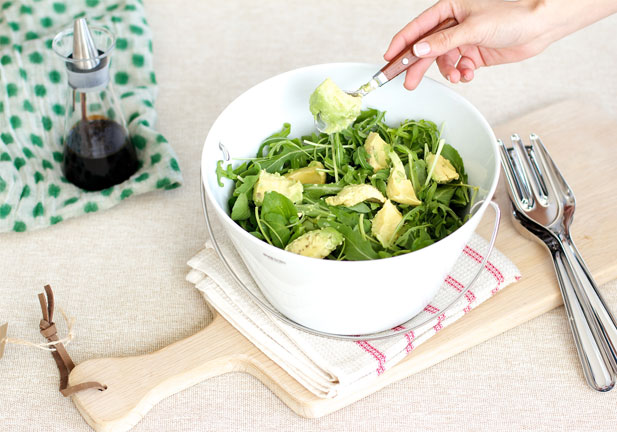 4. Scatter sliced strawberries.

5. Crumble the goats' cheese.

6. Smash and sprinkle the peanut brittle (be generous).

7. Season with freshly-ground black pepper and drizzle on your dressing.

Is your mouth watering yet? Download print-friendly version of this recipe.