One of the SA dessert greats: peppermint crisp tart
Fancy some pud that requires minimal fuss and a whole lot of crispy, green goodness? No, we're not baking with leprechauns, friends. We're talking about the wild decadence of a peppermint crisp tart. Here's our take on this wonderfully nostalgic classic, given a kick with a tipple of brandy and a little added pizzazz with homemade coconut shortbread.
Ingredients (serves 6–8):
500ml fresh cream
1 can caramel treat
1 can condensed milk
Rind of 1 lemon
Juice of 2–3 lemons (depending on size)
4 Tbsp (60ml) brandy of your choice
3 Peppermint crisp chocolates (we used the 49g bars), roughly broken
Toasted coconut shavings, for garnish (optional)
For the coconut shortbread:
¼ cup (25g) desiccated coconut
80g butter, at room temperature
Pinch of salt
¼ cup (65g) castor sugar
A few drops vanilla extract
80g flour
If you'd rather not bake your own shortbread, you can also use a packet of Tennis biscuits.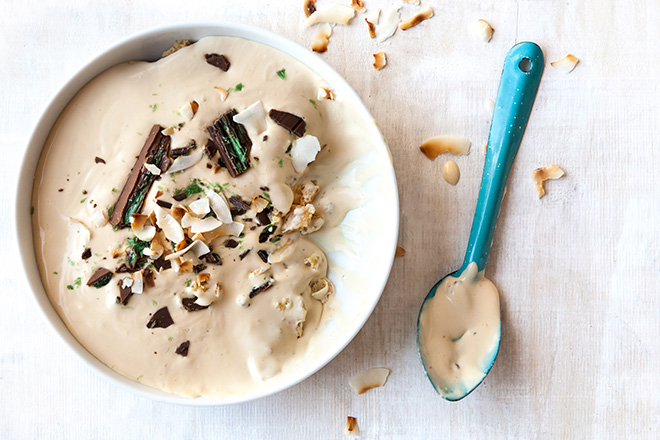 Method:
1. To prepare the coconut shortbread, preheat the oven to 180°C. Place the desiccated coconut on a baking tray and pop in the oven. Bake for 5–8 minutes until the coconut is just starting to turn golden, stir once or twice during the cooking time. Once the coconut is evenly toasted, remove it from the oven and leave to cool.
2. Place the toasted coconut in a food processor and blitz until you're left with a fine powder. Leave the oven on for your shortbread.
3. Next add the butter, sugar, salt, vanilla and flour to the food processor. Combine to a soft dough (if your butter is a bit cold, you'll need to add a few tablespoons of water).
4. Roll the shortbread out between two pieces of baking paper to about 3–5 mm thickness. Place on a floured baking tray. Pop in the oven and bake for 15–18 minutes or until golden. Remove and allow to cool.
5. Whip the cream until soft peaks form. Fold in the caramel treat, condensed milk, lemon juice and rind.
6. Break the shortbread up into large chunks and drizzle with enough brandy to just soften slightly, or to taste.
7. Layer half of the chunks in a baking dish or in individual glasses, then pour over a third of the cream mixture. Repeat layers, including your roughly broken peppermint crisp, ending with the cream mixture and shards of the delicious minty chocolate and coconut shavings.
If you can, leave the dessert to rest in the fridge for an hour or two. This gives the biscuits plenty of time to soak up all the flavours, so that's first prize but 30 minutes does the trick for cooling sufficiently before serving and gobbling up.
We hope this peppermint crisp pud brings back many a happy childhood memory. Eat and enjoy.