Our 12 essential tools for baking brides
If the smell of vanilla essence and the dusting of flour on your counter melts your butter, then adding some beautiful baking essentials to your wedding registry is a clever move. But with so many wonderful tricks of the trade, how do you choose? Since your
wedding registry
is the place to set your sights on additions you really want for your new, married life, here's our pick of the 12 best tools for baking brides.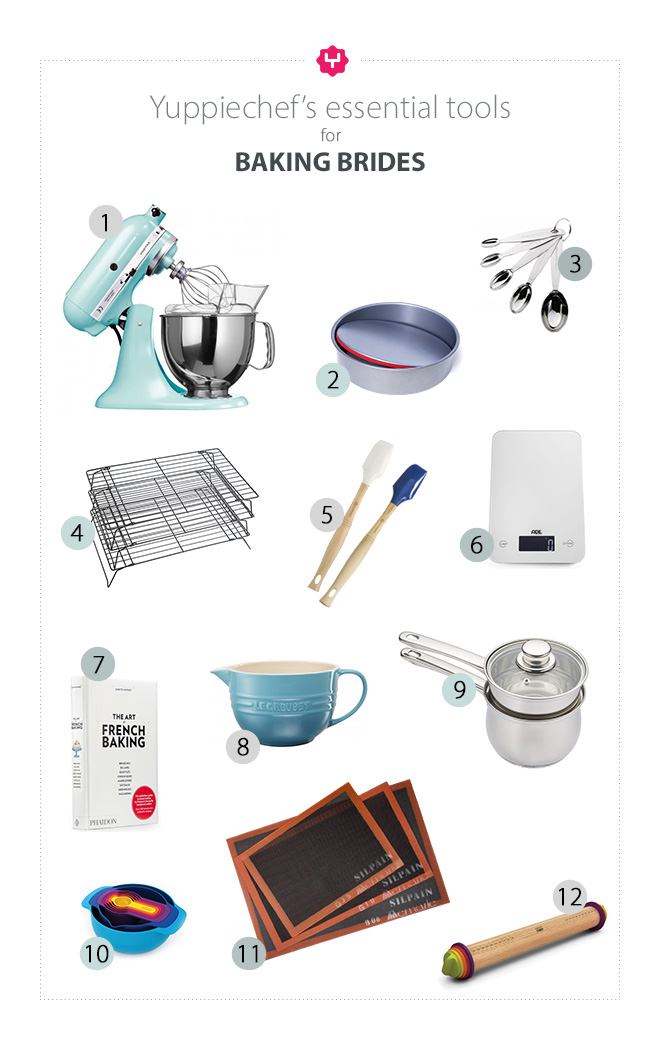 1. KitchenAid Artisan Stand Mixer
Whether it was the gleaming workhorse great Aunt Tilly made her meringues with or the whirring memories of mum baking mudpies for your bake sale, one thing is for sure, investing in this absolute KitchenAid champion for all your future baking endeavours is a wise, wedded choice indeed.
2. Pushpan Non-Stick Round Cake Tin
A cake tin like this Non-Stick PushPan tin, will have you popping out cakes like a pro. No more using all your leftover icing to disguise the bits missing from your outer edge.
3. Cuisipro Stainless Steel Measuring Spoons
Measuring spoons should be something you can rely on for years to come. These Cuisipro Measuring Spoons have the quantities pressed into the steel, so no more squinting to read rubbed off plastic print.
4. Kitchen Craft Non Stick Three Tier Cooling Rack
When the urge takes over one often bakes up a storm, hey? To make sure you don't run out of space, this nifty Three Tier Cooling Rack comes in very handy. Best bit is how it collapses for storage when you're done.
5. Le Creuset Venus Small Spatula
These guys will become your best baking companions in no time. From roasting some almonds to scraping the batter bowl clean, nothing sticks to a Le Creuset Spatula, which makes it all the better for licking clean.
6. ADE Slim Scale
Weighing anything from liquids to mounds of flour and bits of chocolate becomes a slim cinch with an ADE Slim Scale standing at the ready. Best news is it's compact enough for tiny kitchens and quaint apartments.
7. The Art of French Baking
Having this baking bible by your side, will be like popping over to France to do a quick patisserie course whenever the mood takes you. Master all the classics and there will be no occasion you won't know how to wow.
8. Le Creuset Stoneware Batter Bowl, 1.9 Litres
You'll want to come up with any excuse to whip up some tasty batter in this classic Le Creuset Batter Bowl. It's the perfect size for your basic scones, muffins or a simple sponge and the lip makes it ideal for Sunday morning pancakes.
9. Kitchen Craft Clearview Stainless Steel Double Boiler
Homemade custard or perfectly melted and tempered chocolate are what give your home baked treats that special edge. All of which are easy to do with a double boiler like this guy from Kitchen Craft. Custard slices here we come.
10. Joseph Joseph Nest Bake Set
Here's a baking set of measuring cups that expands to give you the full picture but doesn't clutter up your cupboard when the cake's all gone. Joseph Joseph sure know how to design a compact winner.
11. Demarle Silpat Silicone Baking Mats
In the baking game, non stick surfaces are the bees knees. These Silicone Baking Mats not only keep your oven trays grease free, but your baked goods don't have burnt bottoms.
12. Joseph Joseph Adjustable Rolling Pin
To bake a batch that is golden brown to the very last crumb you need consistency. And what better way to achieve that, than when you're rolling out the dough. This nifty Joseph Joseph rolling pin lets you preset the size for easy peasy efficiency.
We hope our selection of baking essentials makes building your wedding registry, well, a piece of cake, leaving you with more time to enjoy the wafting aromas of choc chip cookies.
Check out the Soft and Pretty Collection for an extended collection with more beautiful baking goodies to consider adding to your registry collection.