A tête-à-tête with Franck on French cooking
If you've ever had the pleasure of interacting with Franck Dangereux, chef at
The Foodbarn Restaurant
and also our latest cooking school host for our
French Classics online course
, you will know what a charming and passionate individual he is. We had ourselves a little one on one with Franck on the ins, outs and preconceived notions behind the realm of French cuisine.
1. How would you define your approach to French cooking?
French cooking is very seasonal and very terroir driven, which means that you draw on the history and the climate when deciding which dishes to cook. In France, the food that is cooked in a region is the right food for that region and the right food to eat for that climate. It's in season and readily available at an affordable price – so it's logical and makes sense. For example, a rich bordelaise sauce in a wine growing region is logical or a fish soup on the Mediterranean coast makes sense too. French cooking is unpretentious, generous and beautiful. I like to apply these principles when cooking French food.
2. How do you think most people see French cooking and what do you want them to take from this course?
People see French cooking as difficult and what I want them to take out of this course is that it isn't. The other reputation French cooking has is that it is very rich, and some of it is. That is fine. Spoil yourself from time to time with these recipes.
3. What were your first thoughts about this project?
I was very excited from the beginning. I love sharing my knowledge. A perfect world for me is where people eat beautiful food all the time. You can really make a difference to your life by eating good food.
4. Which recipes do you think most people will be thrilled to know they can learn to make at home?
The crème brûlée and poached eggs with Hollandaise sauce – people think they are difficult and daunting but really they're not.
5. Which of the dishes do you wish more people cooked regularly for themselves? Or are these all 'have your friends over for fancy dinner' type meals?
The soupe au pistou really makes people happy. The potato gratin is also an amazing dish. You can make both of them regularly and they are a triumph every time!
6. Are the ingredients in this course everyday ingredients or speciality ingredients?
Most of the ingredients are everyday. It's the way that they are prepared that makes them special. That's what makes the course interesting.
7. Any cookware that you feel belongs in a French kitchen?
A pestle and mortar. The whisk is also used a lot in a French kitchen. The French are always fluffing and whisking things. It's not cookware, but a good attitude is also essential to have in a French kitchen.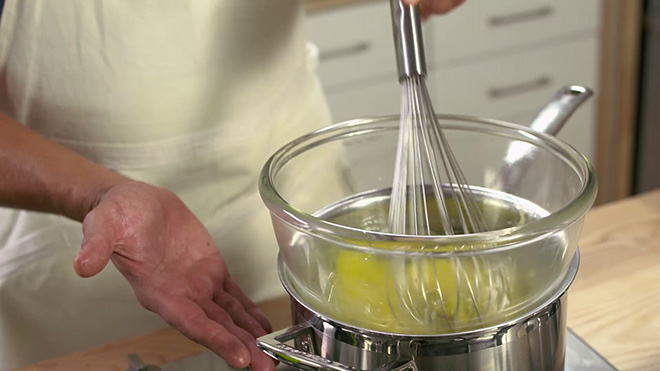 8. How did you enjoy working in the Yuppiechef Kitchen Studio?
It's a lovely spacious kitchen, very well kitted out with great appliances.
9. Any funny filming moments you care to share with us? What's it like being a teacher, a film star and chef all rolled in one?
I loved it. It has been an amazing experience. I've never had to work in such a controlled environment before, where the focus has been on teaching people. I've enjoyed the discipline of it. I've given knowledge and also acquired some.
So, there you have it folks. We told you Franck had heaps of infectious enthusiasm for the world of French food. Will you be signing up for French Classics? Don't forget to check out our Yuppiechef Forum for any questions you might have about the course or it's content.