Jamie Oliver's 15 Minute Meals put to the test
Jamie Oliver gets people into the kitchen and cooking and his book sales attest to that. He is one of Britain's bestselling authors of all time and his book,
Jamie's 15 Minute Meals,
is just one hit in his popular collection of cook books. Is it really possible to make a full meal in just 15 minutes? We put it to the test.
The test
We asked chef Stéfan Marais from Societi Brasserie in Cape Town and Louise, the former project manager and wedding registry expert at Yuppiechef HQ, to put Jamie's book to the test. We chose Jamie's falafel wraps with grilled vegetables and salsa, laid the ingredients out on a board, made sure our challengers were limbered up and ready, and started the timer. An experienced chef and a good home cook – how did they find it?
Chef Stéfan Marais
Time taken: 14 minutes 49 seconds
"A lot of chefs have got negative things to say about Jamie Oliver but I think they are just jealous of his great success. I find his food inspiring, delicious and accessible and I think this is why he is so successful. I was thrilled when the Yuppiechef team asked if I would cook a recipe out of his book with them in the Societi Brasserie kitchen.
"I love falafels and was quite stoked to find out that this was the recipe they had chosen. The recipe seemed straightforward and simple to follow and I expected it to be pretty easy going once I had given it a read through. The ingredients and flavours looked delicious and I couldn't wait to get started.
"Judging by this recipe the book makes it really simple with easy step-by-step instructions that are a breeze to follow. In fact, it makes it sound so basic that I took it way too easy in the beginning having fun making up my falafels until I was told I only had seven minutes left and needed to start moving my behind to finish within 15 minutes. I found the mixture a little runny and added about double the amount of flour that the recipe called for which worked out well – on this note it might be a good idea to test a recipe first before hosting the Queen for a dinner party – unless your dinner party revolves around everyone getting busy in the kitchen together.
"I was very pleased with the end result, it tasted just as good as it looked with clean, simple flavours. This is the kind of thing I can imagine having for dinner on the balcony this summer with an ice cold beer or crisp white wine."
Home cook Louise
Time taken: 16 minutes 50 seconds
"I had a read through the recipe and thought it looked doable. I'm a big skim reader so I made sure to read it very carefully. The way it's laid out makes it quite easy to miss a step or two and I wanted to make sure I didn't miss anything.
"I wasn't allowed to watch Stef when he prepared his meal so I must admit I was a little nervous. The recipe went well and I managed to finish it in just over 16 minutes. Jamie recommended a few time-saving techniques which I thought were quite clever, such as tearing the pepper instead of cutting it and sprinkling chilli sauce on cottage cheese instead of making a fiddly sauce.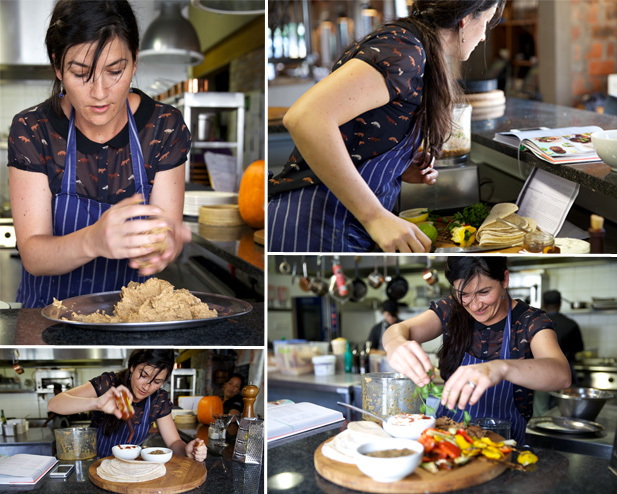 "I made the falafel mixture correctly, following the recipe to the letter, but was a bit concerned because it turned out seriously runny. I had never made falafel before so I decided to put my trust in the recipe. Only afterwards did I find out that Stef had taken the liberty of adding some extra flour. Although delicious, my eight separate falafel balls blended into one frittata-type-thing whilst frying. They didn't look anything like the little, round falafels you can get from Woolies and were decidedly different to the picture in the recipe book!
"The meal was seriously tasty and I will definitely be making it again, although I will be experimenting with the falafel consistency.
"At the end of the day, even if it does take a little longer than 15 minutes, if you include the preparation, I think this book offers some really great options for tasty, impressive but doable-on-a-week-night meals. The recipe doesn't include timings and just gives step-by-step instructions that you have to do in conjunction with one another. I can't help but wonder what would happen if you got interrupted half way through.
"It was a frenzied 16 minutes rushing around the kitchen but nothing was burnt or underdone despite everything on the go. If you want to make it in close to 15 minutes, you also need to have the right tools and in this case, a food processor."
Louise's verdict: Yes I would buy the book but test the recipe at least once before making it for a dinner party.
Chef Stéf's verdict: I would definitely recommend this book to home cooks looking for fast, tasty and accessible recipes. You might not get each and every recipe done in 15 minutes the first time but I am sure most of them will be possible to pull off in around that time after doing it once or twice. The definite health angle to the book is my favourite aspect. Many ingredients are substituted for healthier options and there is also a handy guide with nutritional values at the back for those who are keeping tabs on what they eat. Have fun racing around the kitchen to get your recipe done in 15 minutes or under!
Keen to put this recipe to the test yourself? Head this way for Jamie Oliver's falafel, grilled veggies and salsa.
Take a look at the book on Yuppiechef.com 
recipes © Jamie Oliver 2012, www.jamieoliver.com