How to make Turkish Delight
Turkish Delight (or
Lokum
) dates back more than 230 years, making it one of the oldest sweet dishes in the world. Here's a little history about this classic sweet treat and an easy, step-by-step recipe so that you can make it at home.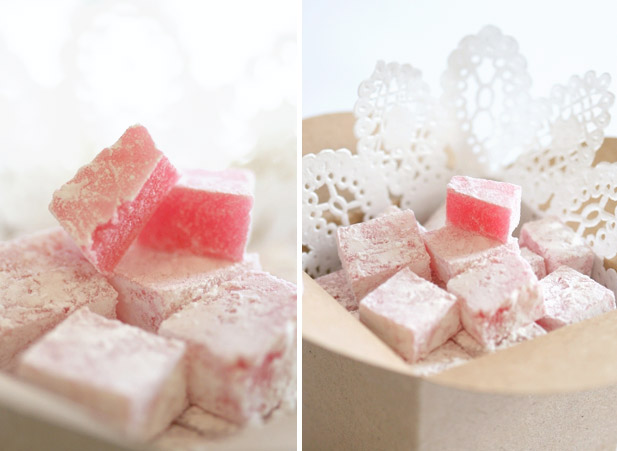 A confectioner named Bekir Effendi, who opened a sweet shop in Istanbul in 1776, is credited with creating this delicacy. His sweet shop still stands today. After Effendi made his first batch of this special creation, it wasn't long before it gained entry into the royal court. The Sultan at the time fell in love with its soft and tender texture, which was a welcome change from the other tough or brittle candies that they were accustomed to in those days. Soon after, Lokum became chic amongst the socialities of Istanbul and sweethearts exchanged it as tokens of their love for each other.
The rest of the world has an unknown British man to thank for the flour, water, honey and flower-essence sweet. After he became fond of it during his travels to Istanbul, he shipped a case back to Britain under the name of Turkish Delight. It almost immediately became a delicacy amongst Europe's high society, who would exchange pieces of Turkish Delight wrapped in silk or lace handkerchiefs as elegant gifts.
Great men such as Winston Churchill, Napoleon and Picasso had a weakness for it and after you taste some, you'll easily see why the evil White Witch in CS Lewis's The Lion, the Witch and the Wardrobe was able to seduce Edmund Pevensie into betraying his siblings and jeopardising Narnia by simply feeding him Turkish Delight.
A traditional recipe for Turkish Delight uses flour and water as binding agents and involves a delicate process to achieve the perfect results, while the below easy recipe uses gelatine and is simple enough for kids to try too.
Ingredients (for approximately 50 pieces)
Neutral tasting oil (such as sunflower oil), for greasing
25g powdered gelatine
260ml water
450g caster sugar
3–4 tsp rosewater (to taste)
A few drops of pink or red food colouring (optional)
For dusting:
3 tbsp icing sugar
1 tsp cornflour
Method:
1. Lightly grease a square baking tin (about 20cm x 20cm) with the oil.
2. Mix the gelatine, water and rosewater in a large pot. Add the caster sugar.
3. Slowly heat, stirring continuously, until the sugar and gelatine has dissolved (this is very important, as you could end up with a grainy texture if it's not dissolved properly).
4. Bring to the boil, without stirring.
5. Reduce the heat and simmer for 20 minutes.
6. Remove from heat and add the food colouring, stirring until it's an even soft-pink colour (rather add less at first to avoid it being too dark). Leave to cool for a couple of minutes.
7. Pour the mixture into your baking tin, cover with a dishcloth or paper towel and leave it to set at room temperature for 24 hours.
8. When set, turn it out onto a flat surface. Using a sharp wet knife, cut the Turkish Delight into squares (2–3cm in width, but this is up to you).
9. Mix the dusting ingredients together well and sift to remove any lumps. Roll your Turkish Delight blocks in the icing sugar and cornflour mixture until well coated.
10. If you're not going to eat it straight away, store in an airtight container.
And that's all that's standing between you and a beautiful homemade treat. This version of Turkish Delight is incredibly easy to make and best enjoyed with someone special, so share the love!
Download print-friendly recipe.
With thanks to Karen Grandcourt for the beautiful pictures.