How to make Garam Masala
If you're fond of a bit of spice and curry, you're probably quite familiar with garam masala but did you know you can make it yourself?
Garam masala is a hot (garam means 'hot') spice mixture – hot in terms of the mixture's pungency and not in terms of the sort of heat you would associate with chillies. It's widely used throughout India but varies slightly from region to region, North to South, and it's often added to curries towards the end of the cooking process to intensify the aromas and add depth.
Just a teaspoon or two is needed. You can vary the mixture with many different combinations of spices and you'll notice the difference in colour and the strength of aroma in a freshly-made batch versus the varieties available for sale in supermarkets.
Ingredients (makes approximately 140g)
50g cumin seeds
50g coriander seeds
6-8 small bay leaves
6 small cinnamon stick or 1 large cassia bark
2 tsp fennel seeds
2 Tbsp black peppercorns (Black pepper is traditionally used but I enjoy using green and pink peppercorns.)
1 tsp cloves
2 tsp green cardamom
2-3 whole black cardamom
4-6 star anise
1 mace kernel
6-8 dried rose petals (Dry your rose petals on a piece of kitchen paper towel by microwaving in 30 second bursts on high, till dry.)

Method:
1. In a pestle and mortar bash the mace kernel until broken into bits. Set aside.
2. If using the whole cassia bark, pound to shards, to make processing easier.
3. Heat a wide saucepan on a low heat. Do not add any oil.
4. Add all the spices, except the rose petals and stir frequently to avoid burning.

5. Dry fry for 5-8 minutes, depending on the heat setting of your stove. The spices will release a wonderful, earthy, nutty aroma. You want to ensure that all the spices are toasted, but not burned. Once toasted, set aside to cool.

6. In a coffee or spice grinder (or using the right attachment for your food processor), blitz your spices a few spoonfuls at a time, until blended to a fine powder. This may take up to 5 minutes a session. Add your dried rose petals here.

7. Mix the powder well and store in a glass jar. I keep mine in the refrigerator, though this is not necessary. Note the difference in colour between shop-bought garam masala (on left) and homemade (on right).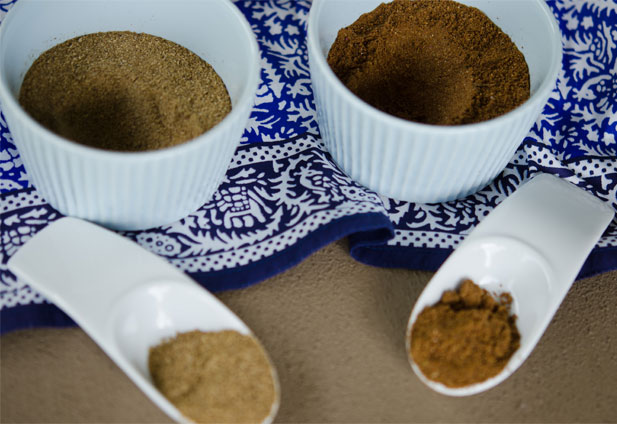 Use within 2 weeks – the garam masala will not go off but will lose it's potency as the volatile oils of the spices evaporate.
Simple to make at home and really exceptional when added to Indian and Sri Lankan dishes. Easy peasy.
Recipe contribution from Food and the Fabulous. For more of her tasty recipes head on over to her blog.