How to make a perfect coffee with the Hario V60 Dripper
In the ever-changing landscape of all things coffee, there are always exciting methods of brewing an outstanding cuppa to be discovered. Heard of the pour over method? The
Hario V60 Dripper
not only produces a particularly delicious cup, but will fill your kitchen with that delightful coffee aroma too. Here are our tips for preparing a perfect pour over coffee at home.
Hario, a Japanese ceramic and glassware company, has produced high quality coffee equipment for almost 100 years. The V60 Range is their quintessential kit for brewing coffee at home. What we love about the V60 pour over is the simplicity and versatility that this little guy brings to coffee prep. Here's how it's done.
1. Heat your water to approximately 95°C. Take care not to use boiling water as it scalds the coffee grounds and will spoil the flavour.
2. Fold the filter paper along the seam.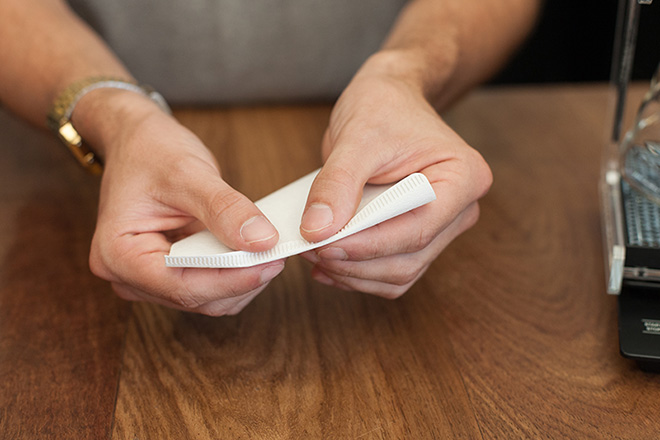 3. Place the filter into the dripper, making sure it sits inside snugly.
4. Wet the filter lightly using warm water as this removes any chance of a papery flavour imprinting on your coffee and it warms the dripper and the pot up, too. Pour out any excess hot water that may have dripped through into your glass carafe beneath.
5. Weigh your coffee beans and then grind the amount you need. It's good to have an idea of the optimum coffee to water ratio, and a brewing time that suits your specific coffee type. Most roasteries can recommend this ideal ratio for their coffee, but it's safe to work on one scoop of ground coffee per cup. Our handy drip scale is also perfect for measuring your brewing time and coffee to water ratio accurately, once you've gained this intel.
6. Add your coffee grinds into the fitted, paper filter. Remember to zero your scale before you add the coffee grinds, if you're working with an exact amount of coffee.
7. Saturate the grounds evenly with a drop of water. The coffee will swell and puff out gently; this is known as blooming. Blooming is the release of carbon dioxide when fresh coffee makes contact with hot water. Let your coffee bloom for 30 seconds or until it has stopped expanding.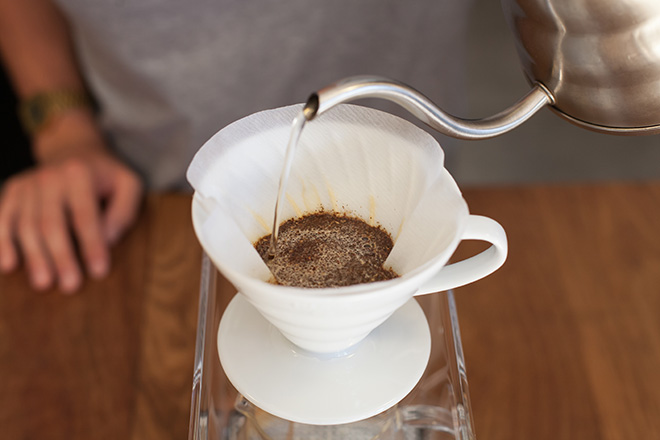 8. Continue to pour hot water in an outward spiral. Try to find a delicate balance between pouring quickly and gently. Make sure you saturate the bed of coffee evenly over the course of your anticipated brew time. Try not to pour directly down the sides of your dripper, as this allows the water to bypass the coffee and dilute your final brew.
9. Remove the jug, fit the lid and pour that great brew into a worthy cup.
Voilà, all that's left to do is savour the clean and precise flavours of your favourite bean. Nice, hey? Pour over complete. Whether you're a connoisseur wanting to perfect the pour over method or simply a coffee fan filling up a serving flask, this method can be as easy or intricate as you like.
Head this way to view the range from Hario.