Easter Cake Off: Bake a cake and win big
[COMPETITION CLOSED] Good gatherings – the best kind – always involve a cake of sorts; cream filled delights at high teas, multi-tiered wonders at weddings or even just simple carrot cake for Sunday tea. If you're on the side of cake-for-all-occasions, you might be planning a little something special for the upcoming Easter weekend? You were? Well, we have a challenge for you.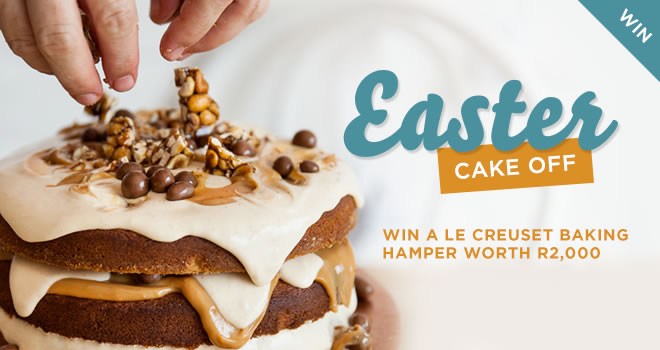 How to enter our 2015 Easter Cake Off
1. Bake one of our four favourite cakes:
2. Snap a pic and share it with us through any of the following channels:
Facebook: You can share it on our Facebook wall
Twitter, Instagram, Google+: Share it using the hashtag #EasterCakeOff on Twitter, Instagram or Google+ (remember, if your account is private, we won't be able to see your entry on the hashtag).
Email: Send your entry pic to eastercakeoff@yuppiechef.com
3. Competition closes midnight Tuesday 7th April 2015.
4. You can enter as many times as you like (but all entries must be recognisable as one of the above four cakes).
5. Only entries of the above cakes will be regarded as valid to this competition.
How the winner is chosen
1. Once you've entered and the competition has closed, we'll pick our top 10 favourites from all the entries – (the top 10 will be chosen based on their appearance and accuracy to one of the four recipe options).
2. Then we'll open it up to you, our community, to vote for your favourite Easter cake.
What's up for grabs?
1. The top 10 finalists will each win a Yuppiechef voucher.
2. The overall community chosen winner will win a gorgeous hamper of baking products from Le Creuset valued at over R2000:
Guess what? The winner can also choose their preferred colours of the Le Creuset hamper goodies. We're so excited for you we can barely contain ourselves.
So, soften the butter and preheat the oven. It's baking time.