Chicken and lemongrass wonton soup
There once was a day when tales were told of sushi making in lands far, far away. Now sushi is well and truly part of the fabric of our rich culinary culture and dim sum, it's very distant Cantonese cousin, is following in its footsteps. Good news indeed. Here's how to make your own wontons.
Ingredients
Serves: 4
6 cups homemade chicken stock
1 stalk lemongrass, sliced and chopped
2 spring onions, sliced
1 thumb-size piece of ginger, peeled and chopped
2 red chillies, sliced and deseeded, if less spice is desired
1 handful bok choy
1 handful fresh wild mushrooms, roughly chopped
For the wontons
½ cup boneless chicken
1 thumb-size piece of ginger, peeled and chopped
2 spring onions, sliced
1 Tbsp fish sauce
2 tsp oyster sauce
1 packet round wonton wrappers
Handful of coriander to garnish
Method
1. Place your chicken stock into a large pot over a medium to high heat.
2. Add lemongrass, spring onions, ginger, chilli,  bok choy and mushrooms. Bring to the boil then reduce to a simmer while you prepare the wontons.
3. To make the filling for the wontons, place the raw chicken, ginger, spring onions, fish sauce and oyster sauce into a food processor. Process well.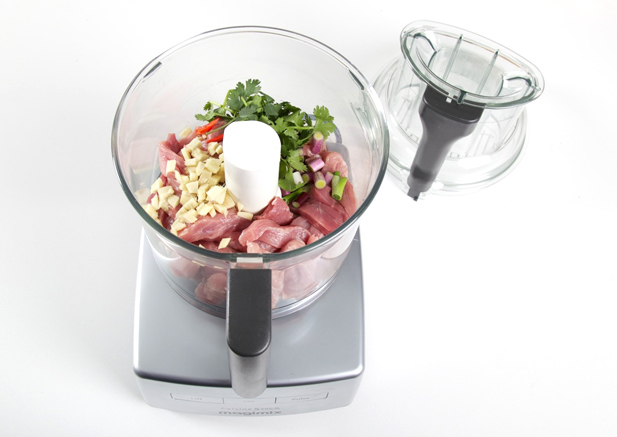 4. On a clean, dry working surface, spread out your wonton wrappers. Pour a little water into a bowl for dipping your fingers. Place 1 teaspoon of filling into the middle of each wrapper and using your fingers, wet the outer edges (this will make it stick). Simply fold up the edges over the filling to a central point at the top, twisting slightly to seal. Whichever way you wrap, make sure the wonton is sealed otherwise the filling will leak into the soup.
You can also use this recipe just for wontons, without the soup. Steam them on high and serve with sweet chilli and soya dipping sauces on the side.
5. Add the wontons to the chicken broth. Boil for about 8 minutes or until they are floating rather than sinking. Reduce the heat to low.
6. Taste test the soup for saltiness, adding a little fish sauce (instead of salt) as needed.
To serve, ladle soup into bowls. Add a sprinkling of fresh coriander and enjoy.
Keen on your dim sum? Gear up with these essential tools.
Read all about the duo behind the cracking South China Dim Sum Bar.