Easy blue cheese soufflé
On a recent all-things-cheese cooking spree, we tackled the art of making a blue cheese soufflé. It's really not as tricky as you might have thought. Keen to give it a try? Now's the time.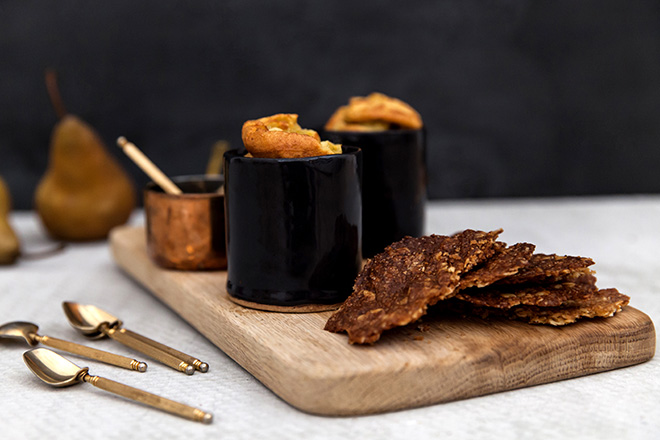 Soufflé is traditionally a French dish, its name comes from the word souffler, meaning 'to puff up'. By separating the egg whites and aerating them before adding to the yolks and cheese, this baked delight rises up like a light and fluffy cake. Keen to give it a go?
Ingredients (makes 6 large soufflés):
60g butter
60g flour
350ml milk
90g blue cheese
3 egg yolks
Pinch of black pepper
Pinch of salt
1 tsp wholegrain mustard
4 egg whites
We used these Mervyn Gers Espresso cups for our soufflés but these Le Creuset ramekins would also work well.
For serving:
We served ours with fresh pears, a pear compote and butter snaps but they are also delicious with a fresh green salad.
Method:
1. Preheat the oven to 180°C and grease your ramekins using an upwards motion.
2. Melt the butter in a saucepan on a low heat and add the flour to make a roux. Keep stirring to prevent the mixture from clotting and burning.
3. Next add the milk to make a béchamel sauce, keep stirring to prevent lumps from forming.
4. When the mixture is smooth and thick, take your saucepan off the heat and mix in the cheese, yolks, salt, pepper and mustard. Set aside.
5. Whisk your egg whites in a separate bowl until light and fluffy and then fold these into the cheese mixture. Be gentle so as not to knock the air out. Decant into your ramekins.
6. Fill a baking tray with about a centimetre of water and place your ramekins in this. Then pop the baking tray into the oven and bake for about 40 minutes.
Serve immediately, most likely in utter silence, because really, when food is this tasty, conversation takes a back seat.
Thanks to our Food Buyer, Rina Van Velden, for the recipe and styling