Beef and Guinness pies
Did you know that no ordinary pie can claim to be a Cornish pasty? By law, a Cornish pasty must be shaped like a 'D', crimped on one side and include a chunky assortment of swede, potato, beef and onion. They must also be prepared in Cornwall but they don't necessarily have to be cooked there. That's quite a lot of rules for one little pie. These beef and Guinness pies are distant relations of their Cornish friends, except they were prepared and devoured here, in our Yuppiechef Test Kitchen.
Ingredients
Serves 8
1.5kg diced stewing beef
2 onions, chopped
4 cloves garlic, crushed
A sprinkling of thyme
2 Tbsp tomato paste
4 Tbsp oil
1 cup plain flour
400ml Guinness
1 cup beef stock
2 potatoes, peeled and cubed
1 pack butter puff pastry, rolled
Milk, to brush pastry
Method
1. Lightly coat the beef cubes with seasoned flour and brown in hot oil. Set aside.
2. Cook your onions, crushed garlic and thyme in oil until golden. Sprinkle in the remaining flour and cook for 1 minute.
3. Return meat and juices to the pan, add tomato paste, Guinness and beef stock. Bring to the boil. Reduce heat and simmer for 2 hours until tender and sauce has thickened.
4. Add the diced potatoes for the last 15 minutes.
5. Pre-heat the oven to 200°C.
6. Roll out the pastry and cut 8 large circles. Divide the mixture between the pastry rounds. Fold over gently and seal the edges together using your fingers.
7. Brush pastry with milk or beaten egg. Place on a non-stick baking tray or Silpat and bake for 25 minutes until golden.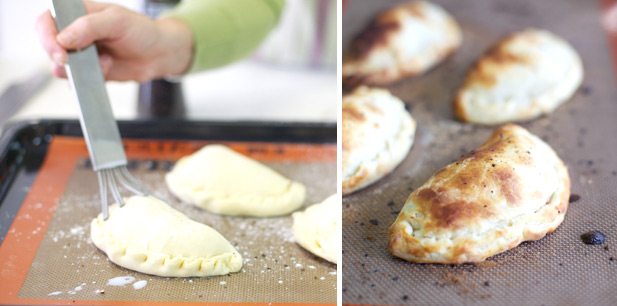 A pie with panache. For more pie recipes, check these out.