Jobs at Yuppiechef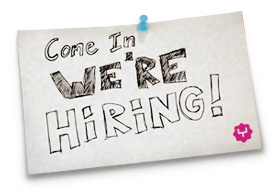 People, we're hiring and we need your help. Take a look at the job descriptions below by clicking on the job title. If you feel you fit the bill for any of them, or know someone who does, and you'd like to join our team, complete the form below. As usual, we're looking only for good people - that is those who are brilliant at what they do, are always happy to help, socialise, get involved and work hard, all while not taking themselves too seriously.
If nothing below quite works for you, be sure to sign up to our Jobs Newsletter to be alerted when we're next recruiting.
If you know of someone who'd be the perfect person for one of our job openings, we'd love to hear from you. If you recommend a friend who later joins our team, you'll also get a little something special from us.
---
Job application form
Tell us a bit about yourself, let us know which job from the ones listed above you're interested in and upload your CV where the form asks for 'attachments' so we can have a squizz.
Sign up to our Jobs Newsletter
If you'd like to get an alert when we're next recruiting, sign up to our jobs emailer here.